Buy High quality inclination Ultra Wide coal Conveyor Belt Price
Ultra Wide Conveyor Belt
KOSGA

CHINA

30-60 days

Daily production of 500 meters
Our experienced team of proven engineering professionals successfully resolve complex Ultra Wide Conveyor Belt challenges and implement smart, sustainable solutions in manufacturing, mining, shipping, fishing, food processing, supermarkets and transportation every single day.

Kosga has Chinese professional production technology and equipment. Our vulcanizer can produce rubber conveyor belt with a width of 6.8m. Our professional engineers can customize the production according to customer requirements.
Buy Ultra Wide Conveyor Belt, high inclination conveyor belt, High quality coal conveyor belt, conveyor belt Price
Features:
Conveyor belt is a rubber product which is made by bonding multi-layer hanging rubber canvas together or using other skeleton materials as core, covering rubber layer and vulcanizing. The main parts of the conveyor play the role of transporting materials. It is suitable for conveying bulk, granular and powder materials and parts.
our conveyor belt types:
polyester conveyor belt、nylon conveyor belts、cotton conveyor belt、heat resistant conveyor belt、oil resistant conveyor belt、fire resistant conveyor belt、cold resistant conveyor belt、Steel cord conveyor belt、chevron conveyor belt、sidewall conveyor belt、Pipe conveyor belt
Advantage:

Kosga has B6800 Ultra Wide Conveyor Belt Production Line, which can customize B200-B6800 Ultra Wide Conveyor Belt Products.It has the characteristics of heat resistance, high temperature resistance, ignition resistance, acid-base resistance, corrosion resistance, wear resistance and cold resistance.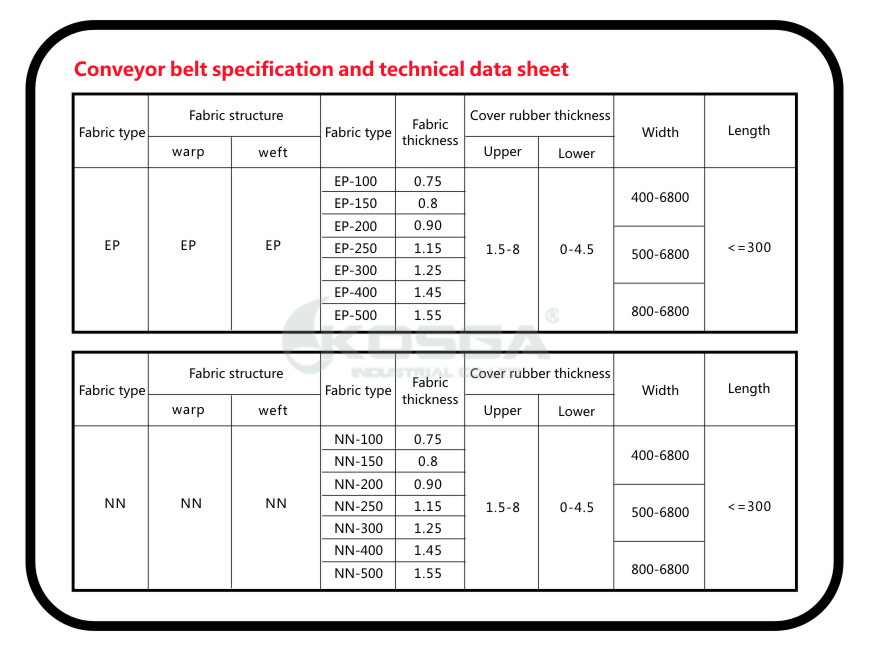 We could offer belt with cover grade in accordance to International standard such as DIN 22102, RMA, AS 1332, SABS 1173/2000, IS 1891, BS 490, JIS K 6322, etc.Our R&D department can design customized wear-resistant conveyor belts according to requirements to provide the best transportation solutions.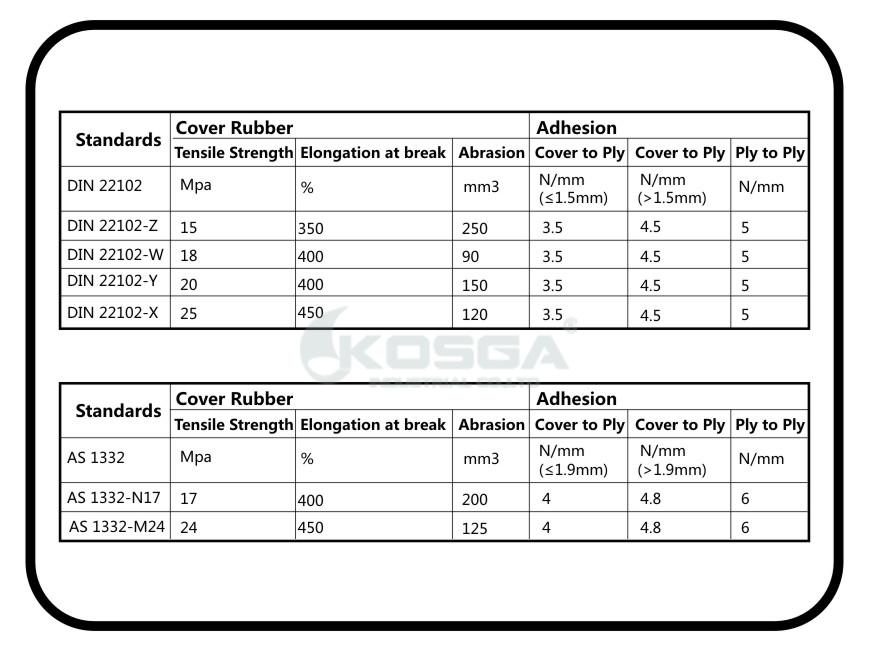 Corrugated Sidewall Conveyor Belt