History of rubber lining of ball mill
09-11-2019
Ball mill is suitable for grinding all kinds of ore and other materials. It is widely used in ore dressing, building materials and chemical industry. It can be divided into dry type and wet type. According to different ways of discharging ore, it can be divided into grid type and overflow type.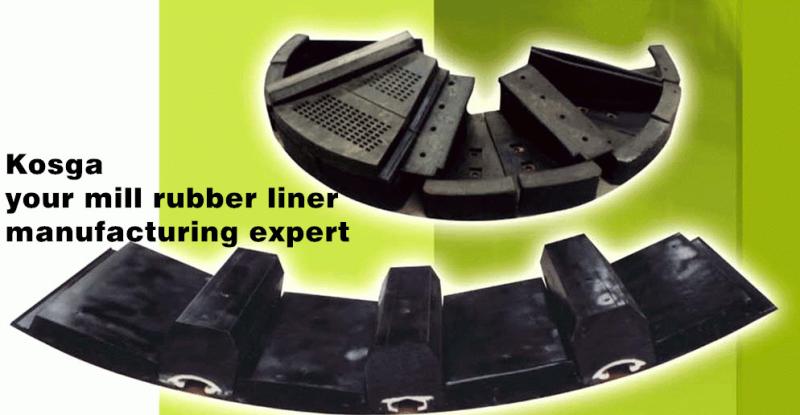 Ball mill is the key equipment for crushing materials after they are broken,It is one of the widely used grinding equipment in industrial production.
The first to use a mill rubber lining was Nipissing Ming,In 1914 the mine was used in grinders as an emergency repair to replace the missing steel lining with scrap tyres,It has been applied perfectly,The first patent applicant for the rubber lining of the mill was James Denny and Rolla Watsou,The patent was officially applied on December 3, 1921 and approved by u. s. patent as public case on October 16, 1923 (no.14,470,597),On September 20, 1924, engineer John Gammeter filed a patent for a rubber lining with insert bolts (approved October 5, 1926, NO.1,601,956),The lining was manufactured by G00DRICH. From 1927 to 1936,The application of rubber lining in mining industry and ceramic industry has been reported in a large number of literatures,At this time, as a new product has been accepted by the market.People began to realize the grinding cost per ton of materials for the rubber lining of the mill,In 1936 the DOMINION rubber company manufactured rubber linings for grinders at its Papincan plant, using a laminate structure for fixation.Up to now, many mills worldwide have been lined with rubber. With the growth of mineral material industry, rubber lining of mill will be further developed.
Kosga Industrial Co., Ltd. is a rubber lining manufacturer of mill, which integrates scientific research, design, manufacture and sales.
Founded in 1979 and rising rapidly, it has professional level and mature technology in the field of wear-resistant rubber., it rose rapidly. It is our constant pursuit to rely on science and technology for development and continuously provide customers with satisfactory wear-resistant rubber lining products for mills. On the basis of introducing the international advanced technology for designing and manufacturing wear-resistant rubber for mills, KOSGA Has developed various kinds of AG, SAG and ball mill rubber linings which are suitable for all brands in the current market and have been certified by ISO 9001 Quality Management System, and have been widely used in many fields such as mining, metallurgy, chemical industry, power plant, cement etc. With first-class product quality and exquisite technical service, it has received unanimous praise from Customer.
Learn more:www.kosga.com